October 6, 2016 - The Standard
Phoenix 21 Raiders 16
Matt Morris caught three touchdown passes from Grade 10 quarterback Ethan Reid, helping the St. Francis Phoenix open the Niagara Catholic Athletic Association senior football season Thursday with a 21-16 victory over the Holy Cross Raiders.
Alex Payne had a strong game at receiver for the Phoenix and Nathan Prantera picked off a pass.
Aiden Buis scored a TD for Holy Cross and Sebastian Balsom booted three field goals. Pat Zizak had a fumble recovery and Eric Dunnett a fumble recovery for the Raiders.
Niagara This Week June 15, 2016 - St. Catharines By Melinda Cheevers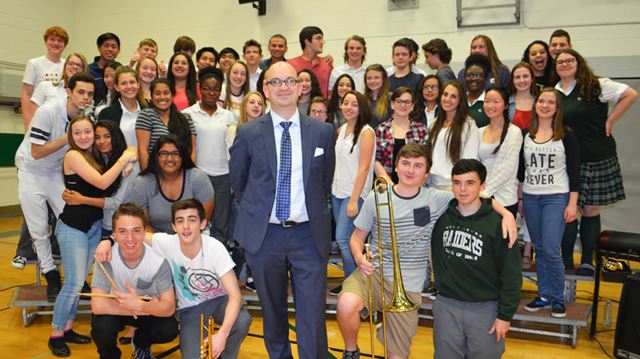 ST. CATHARINES – Not many people can claim they have "faceswapped" with Prime Minister Justin Trudeau.
Holy Cross Secondary School teacher J.P. Dupont can. The music teacher received a national award for teaching last month, earning him the opportunity to meet with Trudeau during a special celebration in Ottawa – and the chance to swap faces while taking a selfie. Dupont was one of nine recipients from across Canada to receive the 2015 Prime Minister's Award for Teaching Excellence.
"J.P. represents the very best of Catholic educational excellence," said John Crocco, director of education with the Niagara Catholic District School Board. "Having witnessed J.P.'s vocational call to Catholic education first hand, I can attest to the fact that he nurtures student experiences through his creative and inspiring lessons."
A special assembly was held at Holy Cross to allow students and staff the opportunity to celebrate Dupont's accomplishment. With words from Crocco and Holy Cross principal Denice Robertson, the event also included performances by two of the choirs that Dupont directs and a special video presentation prepared by staff and students.
More Articles ...